A Mortal Song
by Megan Crewe
Sora's life was full of magic--until she discovered it was all a lie.
Heir to Mt. Fuji's spirit kingdom, Sora yearns to finally take on the sacred kami duties. But just as she confronts her parents to make a plea, a ghostly army invades the mountain. Barely escaping with her life, Sora follows her mother's last instructions to a heart-wrenching discovery: she is a human changeling, raised as a decoy while her parents' true daughter remained safe but unaware in modern-day Tokyo. Her powers were only borrowed, never her own. Now, with the world's natural cycles falling into chaos and the ghosts plotting an even more deadly assault, it falls on her to train the unprepared kami princess.
As Sora struggles with her emerging human weaknesses and the draw of an unanticipated ally with secrets of his own, she vows to keep fighting for her loved ones and the world they once protected. But for one mortal girl to make a difference in this desperate war between the spirits, she may have to give up the only home she's ever known.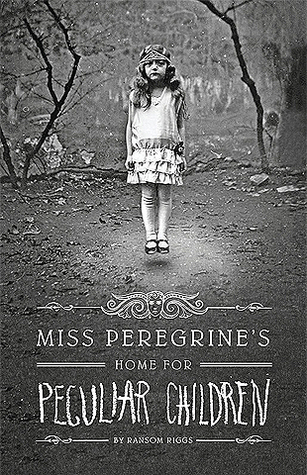 Miss Peregrine's Home for Peculiar Children
by Ransom Riggs
A mysterious island. An abandoned orphanage. A strange collection of curious photographs.
A horrific family tragedy sets sixteen-year-old Jacob journeying to a remote island off the coast of Wales, where he discovers the crumbling ruins of Miss Peregrine's Home for Peculiar Children. As Jacob explores its abandoned bedrooms and hallways, it becomes clear that the children were more than just peculiar. They may have been dangerous. They may have been quarantined on a deserted island for good reason. And somehow—impossible though it seems—they may still be alive.
The Golden Lily
by Richelle Mead
Sydney Sage is an Alchemist, one of a group of humans who dabble in magic and serve to bridge the worlds of humans and vampires. Alchemists protect vampire secrets - and human lives.
Sydney would love to go to college, but instead, she's been sent into hiding at a posh boarding school in Palm Springs, California - tasked with protecting Moroi princess Jill Dragomir from assassins who want to throw the Moroi court into civil war. Formorly in disgrace, Sydney is now praised for her loyalty and obedience, and held up as the model of an exemplary Alchemist.
But the closer she grows to Jill, Eddie, and especially Adrian, the more she finds herself questioning her age-old Alchemist beliefs, her idea of family, and her sense of what it means to truly belong. Her world becomes even more complicated when magical experiments show Sydney may hold the key to prevent becoming Strigoi - the fiercest vampires, the ones who don't die. But it's her fear of being just that - special, magical, powerful - that scares her more than anything. Equally daunting is her new romance with Braydon, a cute, brainy guy who seems to be her match in every way. Yet, as perfect as he seems, Sydney finds herself being drawn to someone else - someone forbidden to her.
When a shocking secret threatens to tear the vampire world apart, Sydney's loyalties are suddenly tested more than ever before. She wonders how she's supposed to strike a balance between the principles and dogmas she's been taught, and what her instincts are now telling her.
Should she trust the Alchemists - or her heart?
by LyricalKris
The lives of the highborn citizens of the realm are subject to tide of power that flows around them. When a match is made between Edward,son of the most powerful man in the kingdom, and Bella, highborn prisoner of the crown held hostage after her family's betrayal, neither party can refuse. It's not an ideal match for either the traumatized Lady nor the black sheep of Masen House.
by TallulahBelle
https://goo.gl/52z8wS
AU/AH: When the Swans return to their birthplace, Bella learns she is no ordinary teenager, and Forks is no ordinary town. Can she fulfill her destiny with the powerful Edward Cullen, or will the dark forces that threaten their families destroy them all?
Chain Reaction
by Araeo
A chance encounter with a stranger on the ferry is the spark that sets off a chain of events. By the time Bella realizes what's happening, is it too late to change her mind? What happens when fate grabs you and won't let go? AU/OOC B/E
The Vampire Diaries
seasons 7 & 8
My Love Story (Ore Monogatari)
With his muscular build and tall stature, Takeo Gouda is not exactly your average high school freshman. However, behind his intimidating appearance hides a heart of gold, and he is considered a hero by the boys for his courage and chivalry. Unfortunately, these traits do not help much with his love life. As if his looks are not enough to scare the opposite sex away, Takeo's cool and handsome best friend and constant companion Makoto Sunakawa easily steals the hearts of the female students—including every girl Takeo has ever liked.
When Takeo gallantly saves cute and angelic Rinko Yamato from being molested, he falls in love with her instantly, but suspects that she might be interested in Sunakawa. With his own love for Yamato continuing to bloom, Takeo unselfishly decides to act as her cupid, even as he yearns for his own love story.
season one
In a time when magic is on the decline amid society, Atsuko Kagari is a cheerful girl who enters Luna Nova Academy in order to accomplish her dream of becoming a witch like her idol, Shiny Chariot. Shiny is a famous witch who disappeared from public view many years ago. On her way to school, Kagari meets the kind Lotte Yanson and the mischevious Sucy Manbavaran and the three become friends as they share a bedroom in campus. At the academy, Atsuko soon discovers she is in serious disadvantage compared to the other girls since she doesn`t come from a magical family and is required to learn the magical curriculum from scratch. Having found an item that once belonged to Chariot, Atsuko must discover how to activate and properly use the mysterious Shiny Rod as she hopes it might lead to finding out what has truly happened to her vanished idol.
complete series
Chiyo Sakura is a cheerful high school girl who has fallen head over heels for the oblivious Umetarou Nozaki. Much to Chiyo's confusion, when she confesses to her beloved Nozaki, he hands her an unfamiliar autograph. As it turns out, the stoic teenage boy is actually a respected shoujo mangaka, publishing under the pen name Sakiko Yumeno! A series of misunderstandings leads to Chiyo becoming one of Nozaki's manga assistants.
Throughout the hilarious events that ensue, she befriends many of her quirky schoolmates, including her seemingly shameless fellow assistant, Mikoto Mikoshiba, and the "Prince of the School," Yuu Kashima. Gekkan Shoujo Nozaki-kun follows Chiyo as she strives to help Nozaki with his manga and hopes that he will eventually notice her feelings.
BIANNUAL BIBLIOTHON & BOOKTUBEATHON WRAPUP
I completed two books and read about a third each of two others.